Discover more from E G A M I
means "image backwards"
How to ruin your brand in 13 characters or less
Greg Glassman has just stepped down as CEO of Crossfit. This swift decision came soon after a controversial tweet was posted by the CEO referencing George Floyd and the Coronavirus pandemic.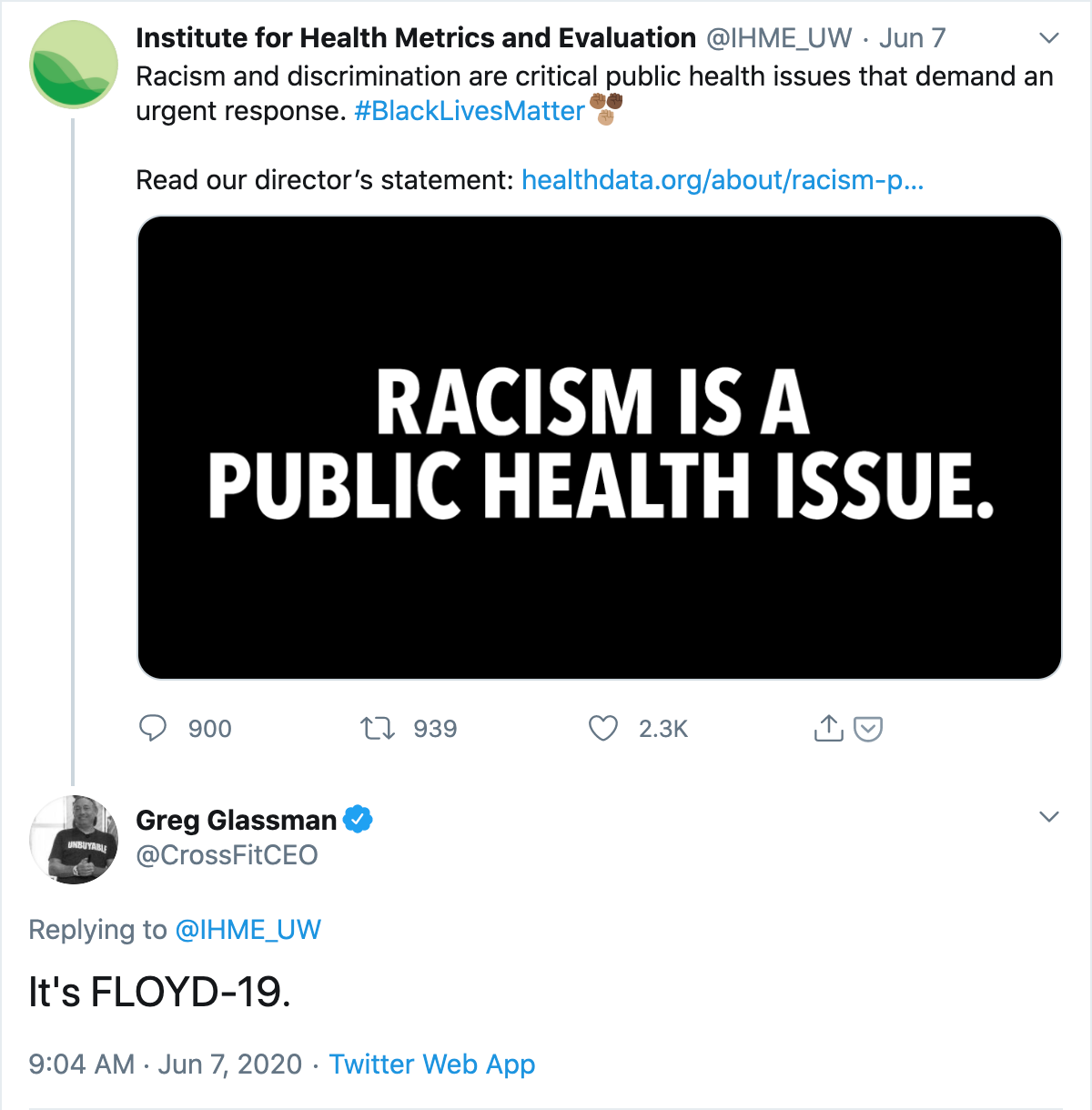 "We're not mourning for George Floyd, I don't think me or any of my staff are" Mr Glassman reportedly said in a Zoom call just hours before this tweet came out. It is reported he then went on to discuss different conspiracy theories including one where Floyd was under investigation by the FBI for money laundering. Did he really think that no one on the call would tell people about this or leak it to media outlets (which did happen)? 
Many gym owners affiliated with Crossfit were disappointed with the brand's failure to release a statement in the wake of the protests. Instead what they got was a tweet containing 13 characters. This simple action has caused a social media backlash with devastating impacts on the company's recurring revenue. 
Big losses thus far
Reebok, their main corporate sponsor for the last ten years, will terminate the partnership at the end of 2020

Around 1,250 out of an estimated 15,000 gyms affiliates across the globe have cut ties or "disaffiliated" with the Crossfit parent organization, according to an industry blog, "Morning Chalk Up."   

Other brand partners like sports equipment manufacturer Rogue Fitness say they will re-evaluate the work they do with Crossfit.
Greg Glassman eventually apologized (below) but it was too late to save the company from devastating financial losses. Many gyms have already started the disaffiliation process, and CrossFit makes most of its money through its licensing partnerships with affiliated gyms.
Two days following the original tweet, Crossfit released a statement in an attempt to remedy the situation as well as another announcing Greg's retirement and CEO replacement.
What impact will this have on the multi-billion dollar brand moving forward? Can their new CEO put a progressive foot forward? I don't know the answers to those questions, but many superstars of the sport like Katrín Davíðsdóttir, a two time CrossFit Games winner, has quit the sport. I am bullish that unless further changes are made, many others will follow suit and turn their backs on the sport forever.